Choose your SideEdit
Welcome to Battlestar Galactica Online.
You will first be asked to select your faction and will have a choice of 3 options: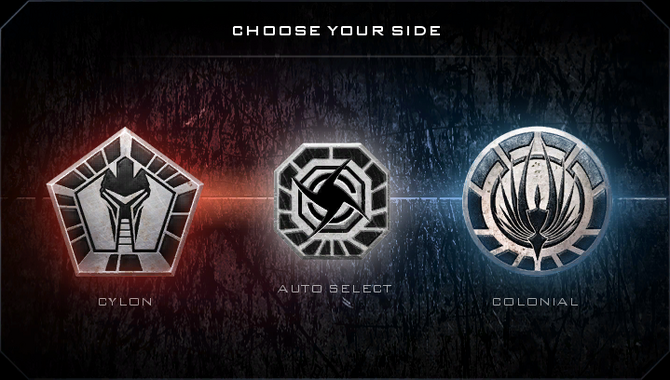 ColonialsEdit
Auto SelectEdit

Choosing Auto Select will have one of the Factions selected for you based on your selected Servers Faction Balance.

Doing this will award you some initial bonuses that will last for 10 days.
Tutorial 1: Flight & Combat ControlsEdit
After selecting a faction, you will be thrown straight into action and take part in a battle where you will learn Flight and Combat commands.


You can follow the onscreen instruction and complete the assignment for a few small rewards or skip the Tutorial and get straight to creating you character.

Create a CharacterEdit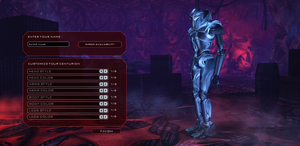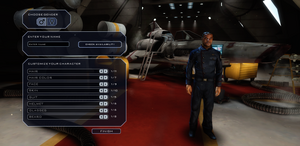 Your NameEdit

Here you can create your in game name which other players will see and check if it is available for use.
You cannot change your player name once you select Finish so choose wisely.
Try to keep it appropriate as any inappropriate names could be reported and changed by Customer Support.
Only small letters, capital letters, numbers and the underscore are accepted. No other signs or symbols can be used.
Customize your AppearanceEdit
Here you can choose your appearance for your character. Just like your Player Name, the appearance cannot be changed once you select Finish.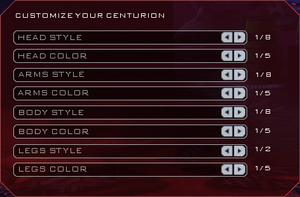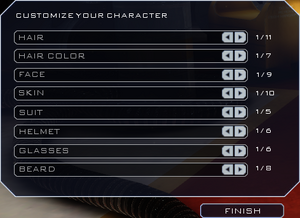 Colonial faction has an additional option where you can choose your Gender.
Once you are done, select Finish and you will be taken to your factions Commander in the Command Center.
Once finished reading the dialogue, you will then begin the next Tutorial.
Tutorial 2: Planetoid Mineral AnalysisEdit
Just as with the first tutorial, you can follow the onscreen commands, perform the requested actions and complete the assignment for some rewards or you can skip the tutorial.
Game ExplorationEdit
After completing the second tutorial, you are now free to explore the game. You have a number of choices to choose from on what to do next, such as:
Complete Story Missions.
Complete Daily Assignments.
Compete in Player vs Player or Non-Player combat.
Resource Mining.
Play Dradis Contact mini-game.
Customize your ship.
Join or create a Wing (Clan/Guild).
And much more as you level up.