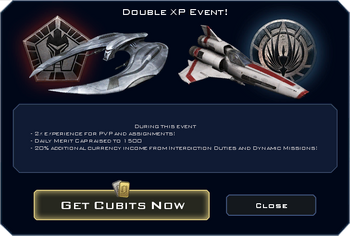 The Double XP Event is an event which runs regularly in game where players gain several bonuses while it is active.
When active, players will gain twice the amount of experience points when participating in PvP action and also when they complete Assignments.
During the event, the Merit Cap is raised from 1,000 to 1,500.
Another bonus is an increase of Cubit rewards by 20% when completing any Dynamic Missions and Interdiction Duties.
Prior to the Interdiction Mission, its predecesor, the FTL Mission would normally cost 100 Fragmented FTL Coordinates, however during a Double XP Event, it would cost 50 Fragmented FTL Coordinates.